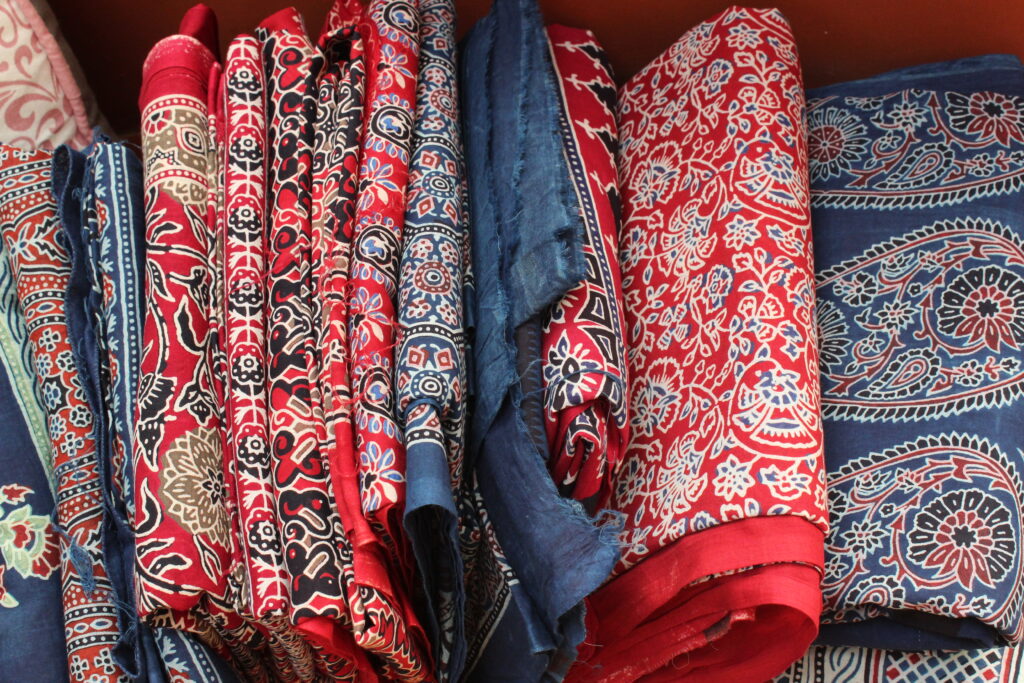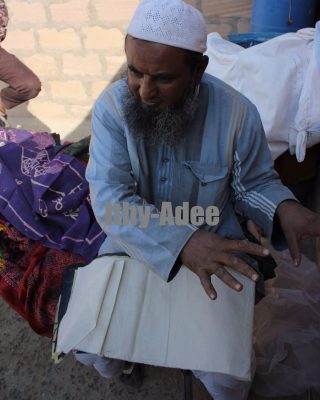 Our trail through Kutch took us to Ajrakhpur where we met the Khatri family – a seasoned Ajrakh printer and one of the large Khatri family involved in the printing process. 
Did you know that an Ajrakh fabric has to be washed 16 times before the final product is out ? That we need to wash and soak the cloth to ready it for dyeing at least 7-9 times, before it is fit to be printed on?
The cloth is washed in water 7-9 times to remove all residual gum, starch and other material applied in the mill or workshop. It is crucial to remove these finishes for the dyes to fix to the cloth. This is followed by a process known as saaj which involves soaking the cloth is in a solution of castor oil, soda ash and camel dung overnight, and leaving to dry the following day in the sun. The final wash is in plain water.
The plain white cloth is then dyed into a dull yellow, in a cold solution of myrobalan (powdered nut of the harde tree – Triphala or kadukka, which is rich in tannic acid and gives the cloth the dull yellow color. This process makes the cloth good recipients for all the dyes that it is going to take.
Dyes used for colouring are all organic and from natural sources – Iron and jaggery mix for black; indigo for blue ; Madder root for red ; Turmeric for yellow ; a combination of turmeric and pomegranate peels for green ; Henna extract for deep orange or red. Alum, lime and arabic gum is used for resisting colours onto already coloured areas.
The resulting fabric is a wonderful Ajrakh print, which has a delightful and heady smell of all the wonderful natural dyes they are soaked in!
Yet again, we source, curate and feature products on our website only from clusters that we have visited and authenticated.