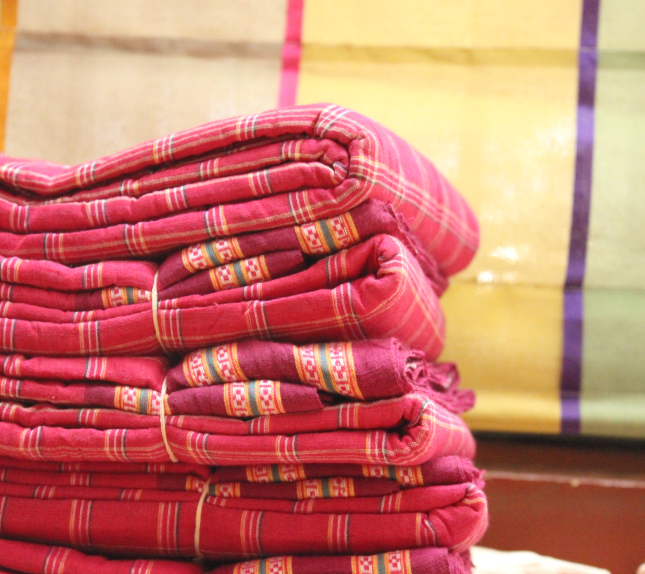 Goa ! Beaches, parties, chilled beer, feni and holidays is what comes to ones mind! 
If I told you Goa has the maximum number of Devi temples, would you believe me? History Professor, Dr. Rohit Palgaonkar in the course of his research stumbled upon the Kunbi drapes worn by the various tribes on magnificent Goa. Thus began his research and revival of the humble Kunbi weave – woven on looms in Karnataka and Tamilnadu, each design of the weave is named after a Devi presiding over the temple in the area. NavaDurga, Thulosi Maa, Bhumika, Devaki, Navadurga, Aajadipa, Mhaalsa, – in shades ranging from red to pinks to purples.  
Black was considered as an inauspicious colour. While the locals veered towards celebratory colours, the colonizers wanted black! Innovative weavers came up with a darker equivalent #Indigoblue, dark yet not black! Derived from the Indigofera Tinctoria plant, the weavers gave a natural darker tint to the saree, veering away from the more popular, reds and pinks.  However in keeping with modern dress sense and sensibilities, a black, aptly named Kaalaamba, was launched recently.
A weave that went extinct, is now revived, made of combed cotton, handwoven with precision, the adivasi weaves are a no frills, practical wear, trending with the adventurous saree draper! All the revived models are named after the Goddesses of the temples of Goa. Yes! Goa is not just beaches and parties – and we will save that information for another day. The Indigo Kunbi, named Mammaari Devi is now available on our website as also Kaalamba.